Welcome to Year 6
This half-term:-
Year Six will be preparing for their SATs tests and looking forward to visiting Derwent Hill.
They will also complete their optical illusion artwork and launching into a new summer topic...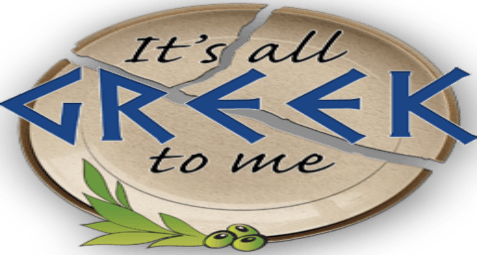 To view a copy of the Year 6 topic web for this term, CLICK HERE. It summarises the learning
that will take place in each subject , linked to the overall theme.
Expectations
Spellings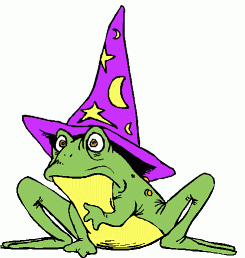 In Y6, we encourage children to become more independent spellers and to develop strategies of their own to improve their accuracy when writing. Therefore, over the year, children will build up a log of their own spelling mistakes, which they can refer back to whenever they write.
Children will continue to study spelling strategies, rules and patterns in lessons, as well as learning the key vocabulary expected for their year group (see below). These will be reviewed periodically in class, rather than through weekly testing, to ensure children retain them over a longer period of time.
The following is the statutory list of words that children are expected to know by the end of Key Stage Two: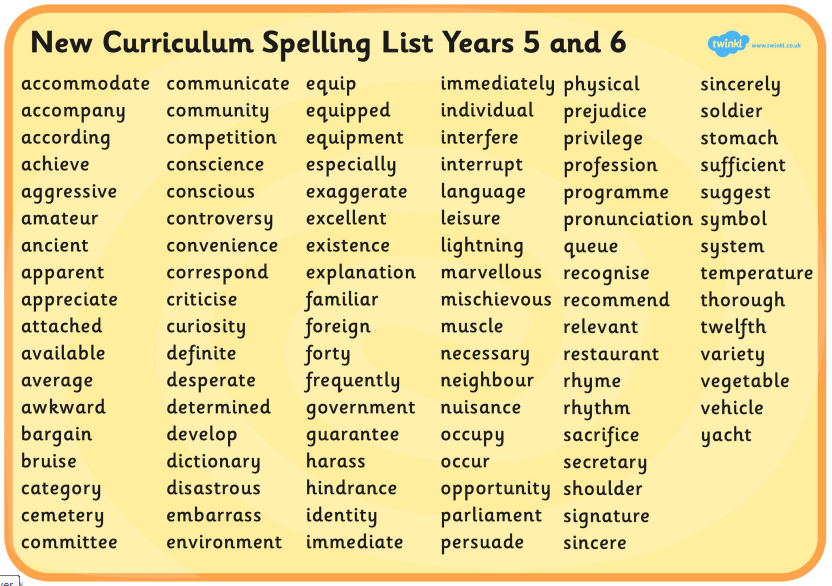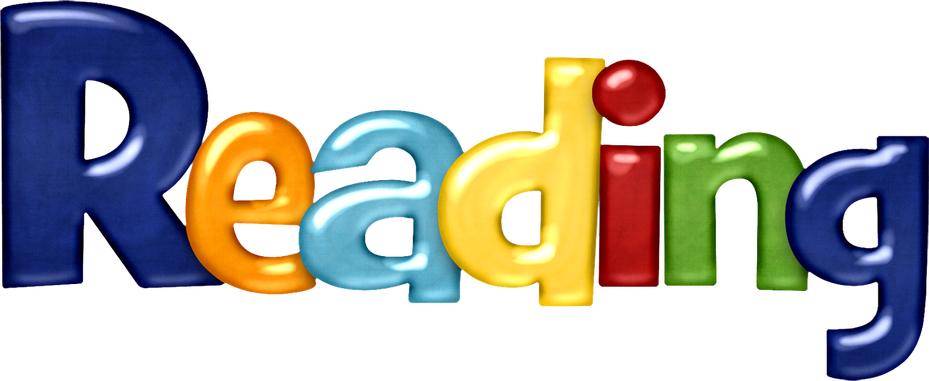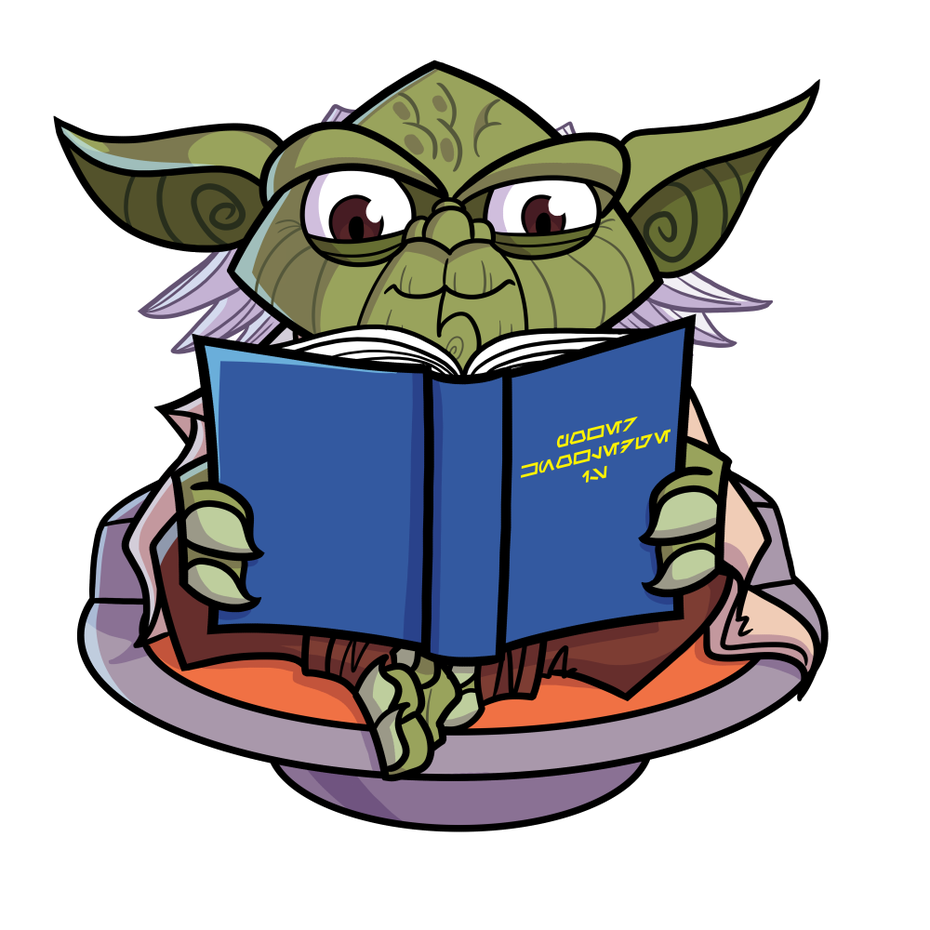 In Year 6, we find that children are doing much less reading for pleasure. It is vital that they continue reading as much as possible, as regular independent reading will help your child to progress across all curricular areas. Children in Year 6 will continue to take part in daily 'Drop Everything and Read' (DEaR) workshops, Guided Reading with an adult and quiz on books they have read as part of the Accelerated Reader scheme.
Unsure which books are appropriate for your child? The 'Words for Life' site lists some good recommendations for appropriate Year 6 texts. Click on this link: Age 7 - 11 to see a summary. Use Accelerated Reader's Bookfinder site to search for texts within your child's ZPD. If you have any questions regarding your child's reading level, or need advice on how to further support them at home, please don't hesitate to contact Miss Jobson.
Maths and English homework will usually be given out on a WEDNESDAY to be completed by the following TUESDAY. There may be other times during the week when your child is given work to redo or some extra practice to help them progress. All homework should be completed to the same high level as class work and in either pencil or blue biro. Children are expected to take responsibility for their homework books and ensure they hand in all tasks on time.
The classroom will be open on Thursday lunchtimes for study sessions where children can come and ask Miss Jobson or Mrs Johnston for homework support, borrow resources, or complete part of a homework task.
Rights and Respect
We have been discussing which United Nations
RIGHTS we feel are the most important for children across
the globe and how we can make sure they happen for everyone.
Our 'awesome' RRSA display, designed by Nathan,
is now up in the classroom for all to see.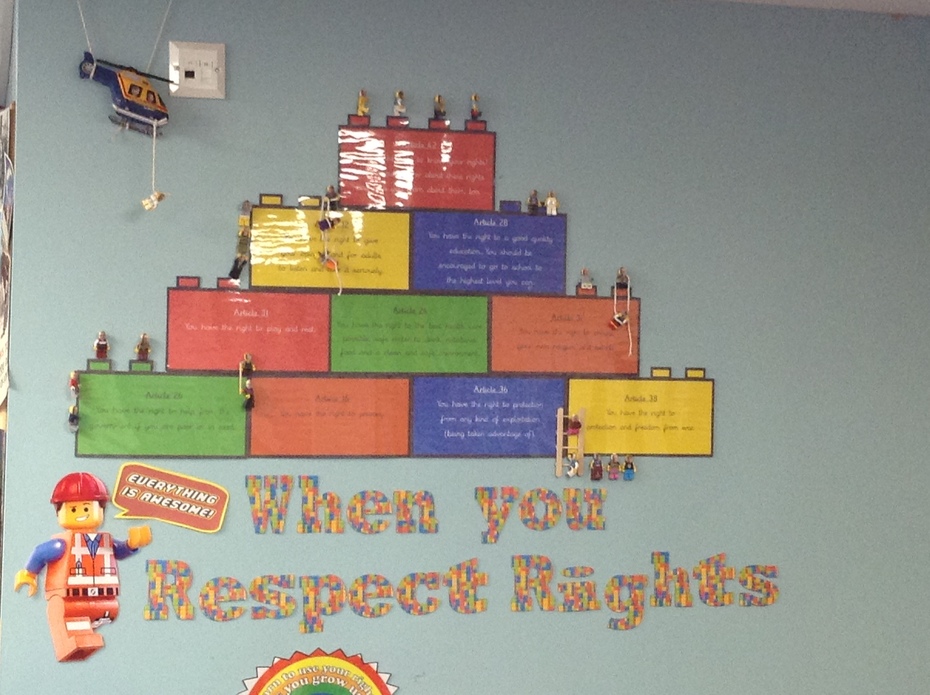 Please ask your child about how RIGHTS and RESPECT
are promoted at Biddick Primary School.

Every child in Y6 has a class Dojo - a little character who can collect and lose points depending on how hard they
have worked and how well they have behaved. You can track your child's Dojo points by downloading the app and
registering to your child's class. It is very useful to send the teachers a little message or reminder too!
Newsletters
Homework
Letters
Y6 Wellbeing: An Emotionally Healthy Approach to SATs
Useful links
Look at what we've been up to in Year 6...